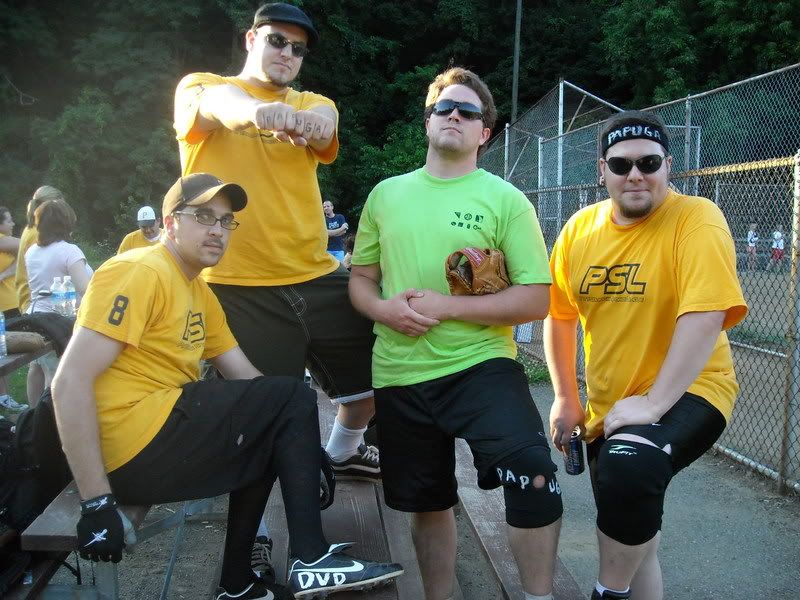 (L to R:  ChachiAKA8Bit, DjLunchbox, DocRemedy, and FatherSpoon)
As previously noted, I'm laid up with a nasty Kidney infection which means I couldn't even make it to the YinzTeam game last night to cheer my friends on from the sidelines.  In short, that sucks.  Yeah, we're all connected through the social media outlets and we're able to keep tabs on one another throughout the day, but part of what makes the Pittsburgh New/Social media crowd so unique (at least in my eyes) is that we use those platforms to actually get together and have fun.  I've met some amazing people over the past year or two, and I'm thankful for all of them.
While balled up in what feels like a permanent question mark position, I got a text from @DjLunchbox to check my email.  The pictures I found waiting for me made me smile for the first time since I've been in the fetal position with this illness.  The one above is my favorite, and it means a lot to me.  And Father Spoon (aka Doogle) posted a run down of the madness that was the last regular season YinzGame–I understand there were planks to walk…
Thanks, yinz guys, for making me feel better and missed!  You really made my day.