All right, boys and girls…   Vacation is over!
It's been a while since our last homework assignment, and I'm thrilled to see folks still posting their responses to the older assignments.  I'm still considering a way to properly celebrate all of your fantastic responses here on the site, so if you have any ideas let me know!  Okay, time to get down to business.  For reasons that shall remain mysterious, I have recently become re-obsessed with Fairy Tales.  Because I can't get them out of my head, I'm going to infect you all as well!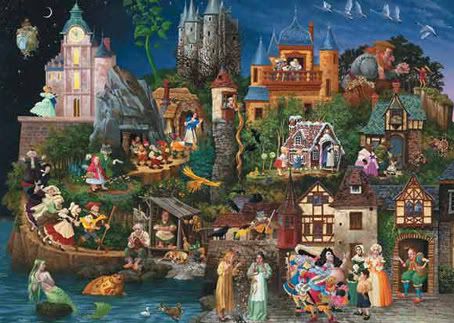 One of my favorite assignments to give out has always been part of my Adaptations class, and I'm dying to know how you creative folks would approach it.  Consider, for a moment, the traditional Fairy Tale.  Usually you have an inanimate object at the heart of the story.  Take, for example, Cinderella.  You have a glass slipper causing all sorts of conflict and trouble.  Some Fairy Tales have more than one (even in Cinderella, you can think of the Carriage, etc).  You even have peripheral characters who appear but don't have much to say.  Fairy Tales are all about imagination, the fantasy world, and giving life and importance to things outside of the norm.  (Okay, I'm not going to rant about the didactic nature of Fairy Tales, or the symbolism here.  That's an altogether different post.  Let's stick to the fun, hmm?)
Once upon a time…
You homework this week is to think about one fairy tale (I don't care if it's the Brothers Grimm, Anderson, or even Disney's masterful theft), and reconsider the story from the point of view of either an inanimate object (Glass slipper, anyone?), or one of the peripheral characters (Maybe the Blue Fairy from Pinocchio).  Retell your condensed version of the story either in the comments, or on your own site.
Don't forget to post a trackback (use the link for this particular post so it automatically posts in the comments section and everyone else can see it)!  My favorite example I ever received on a different version of this assignment was Hamlet, as told from the point of view of Hamlet's dagger. 
Remember, be as creative as you like and use whatever medium you want!  Just make sure you let us know where to find it if it's not in the comments!
…. and they lived Happily Ever After….
Tags: Creative, Fairy Tales, Homework